Early Life
Arne Emil Jacobsen was a famous Danish furniture designer and architect who was known for his plethora of works with international acclaim. He achieved recognition and multiple awards and his work is still recognized till date. His recognition stems from his tremendous contribution to what is now regarded as architectural functionalism which deals with designs being done towards achieving a function and fulfilling a purpose. Arne Jacobsen was born on the 11th of February 1902 in Copenhagen, Denmark to a Jewish father who was a wholesale trader in pins and fasteners and a mother who had a hobby in floral motifs painting. As a young boy, Arne's passion was his mother's hobby and so he desired to become a painter but he was discouraged by his dad who believed a career in architecture would provide a more stable financial and job security. So in 1924, Jacobsen was admitted into the Royal Danish Academy of fine arts where he studied for 3 years under the likes of Kay Fisher and Kaj Gottlob who were both renowned architects and designers at the time. It did not take long for Jacobsen talent to become noticed, the very next year after his admission he won a silver medal in the Paris Art Deco fair for a chair he designed. His graduation project was another work of art that won him a gold medal. He graduated from the Academy in 1927.
Early Works
Following his graduation, work was not really hard to come by and by 1929, he was already collaborating with Flemming Lassen for a work that gave him the House of the Future award in the Danish Architect's Association competition. The building was truly captivating. It was made of both glass and concrete in a spiral shape and with a flat roof; it incorporated special features like a boathouse, a helipad and a garage. This work no doubt beamed the limelight on Jacobsen's architectural prowess and it was only going to keep shinning from here. The very next year, he designed the Rothenborg house which became like a landmark for some of his later works. He would go on to design the seaside resort complex in Klampenborg on the northern side of Copenhagen; a design that represented his breakthrough into the Denmark architectural league of modern designers. His great works continued into the 1930s, and in 1932 he designed what was one of his most detailed works, the Bellevue Sea Bath. His design covered every detail: the lifeguard towers which had blue stripes, the changing cabins, season cards, the kiosks and even the employee dresses.
He was no doubt becoming one of the leading Danish designers in both architectural designs and modern international styles. He then had two more exquisite designs of note, one in 1934, the Bellavista and another in 1937, the Bellevue Teatret. The former was a residential development area made of steel, concrete and glass, and the latter had most notably among its other features retractable roof which made open-air performances possible.
Life during World War II
During World War II, work was not so easy to come by and building materials were scarce. With the threat to Danish Jews and with his Jewish background, he had to flee Denmark for Sweden in 1943. He remained exiled in Sweden for the next two years and there, he had to limit his architectural work. There were threats by the Nazis' to send Danish Jews to concentration camps, and it was no doubt a rough time in his life and career. While he was in Sweden, he would venture into works like wallpaper designing and fabrics as well. He was, however, able to design two buildings for two doctors there.
Post World War II
The war eventually came to an end in 1945 and Jacobson was able to return to Denmark from Sweden where he would go on to resurrect his architectural career, which had been all but dormant the past two years. Of course, since it was a post-war period, there was a need for a lot of building works to be put in place and this would give Jacobson a platform to re-launch his building design career. New public buildings as well as Spartan buildings were both in high demand and needed to be built fast. By the 1950s, Jacobson's career was up and running again and in 1952, he had designed the Allehusene complex as well as the terraced houses in 1955. Between the year 1952 and 1956, the Rodovre Town Hall designed by Jacobson was built and it boasted a wide range of building materials from two types of glass to sandstone, stainless steel and painted metal work. Another work that achieved international acclaim was the Munkegaard School, which consisted of pavilions linked up by corridors made of glass which was arranged in a grid pattern surrounding the small courtyards of the school. It will quickly evolve into a prototype design for many international schools.
Legacy and Awards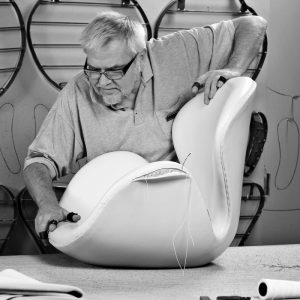 Arne Jacobson's dedication to modern architectural designs and masterpiece, his ability to see the future of what building designs should be shaped into would no doubt represent the hallmark of his legacy. Even though he passed away on 14 March 1971 in one of his Soholm terraced houses where he moved into and lived following their completion, Jacobson works continues to inspire many architects in our time. His bold designs from buildings to furniture represent the definition of modern architecture and functional architectural designs. This is why it is not surprising that he won many awards and received plenty of recognition as well. He received the C. F. Hansen Medal in 1955, the Prince Eugen Medal for architecture in 1962, and the ID-Prize in 1967. In 1968, he received the International Design Award by the American Institute of Interior Designers. Jacobson's career in building designs still dominates in Scandinavia till date. Many of his masterpieces revel in the background of historical grandeur that many can only wish to have been a part of while others just marvel at the imagination of one world-class architect.